Remodeling Our Old House on a Budget
Two years ago, we found the perfect neighborhood and almost, the perfect house. We loved the space, but the house looked like something out of an old magazine. There was 1980's wallpaper covering almost every surface of the house, except for the dated cream that coated the den and living room areas. The kitchen came complete with dated appliances and an orange sink. The only space in the house that had been remodeled was the master bath. We loved the master bath; it gave us vision to help us take on a 2800 square foot project.
Once we moved in, my husband and I were overwhelmed with the enormity of the project. I assured my husband I could live five years until we could afford to renovate our home. Within two months, I was stripping wallpaper and painting like a mad woman. We had moved from an updated, newer home and I could not take the scenery any longer. The wallpaper was glued tight, so tight, we should have left it on and textured over the wallpaper. The wallpaper would come off in small stripes, even after covered in gel to remove it. When we learned we could have textured and painted over the wallpaper, it was too late, I had already done most of the damage. Hours and hours of work, we could have avoided.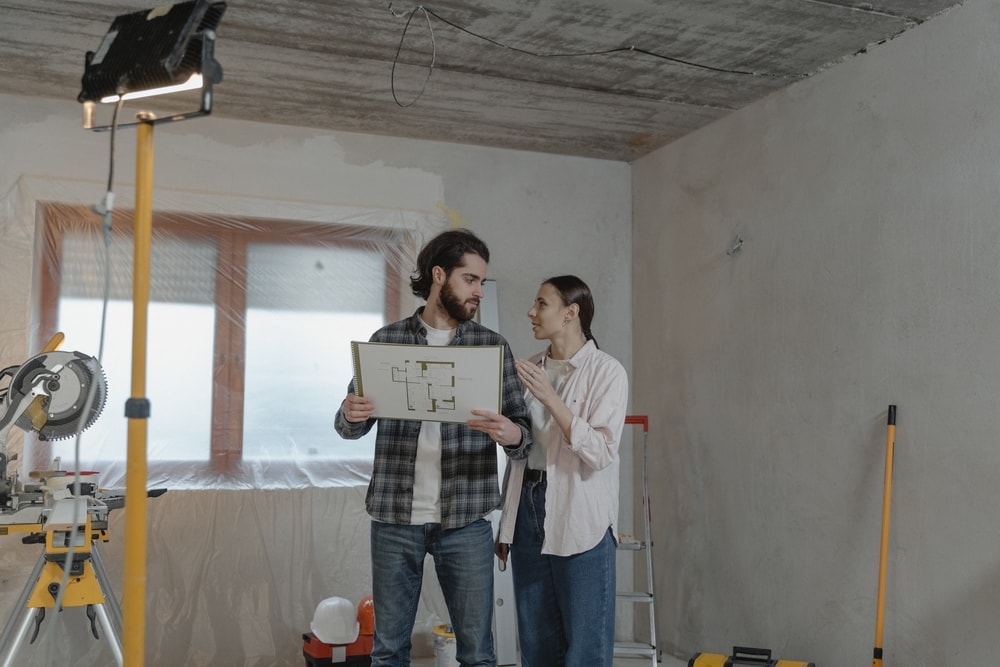 We set the budget at five hundred dollars to texture and paint ourselves. My husband borrowed a spray gun from a friend and the fun began. We taped off the doorways and trim, then he sprayed the walls down. We had it down to a science. He would spray and then spread the texture for a nice Spanish drag. I had the lucky job of clean up and to look for any spots he missed with the trowel. When we were finished, we headed straight to the paint store.
After learning that good paint was not as affordable as we had previously thought, we raised the painting budget to six hundred dollars. Each room had to have primer and paint, almost thirty-five dollars a can for paint. We started buying the cans with the primer and paint-in-one. This made the paint more expensive but easier to paint the second coat. I love color and picked Martha Stuart yellows, greens, and tans for the house.
With new color on the walls, our house began to feel like a home. There were just a few minor issues; the stovetop was only working on one side. The trash compactor in the kitchen was a daily reminder of another time period and the orange sink was unbearable. As was the nasty, rusty white dishwasher. When my father-in-law came to visit, I begged my husband for a "small" budget for updated appliances. We sat down and made a realistic kitchen budget for our kitchen remodeling. No, I wasn't going to get stainless steel to match my refrigerator, but I could get a new working black stovetop, a stainless steel sink, a shiny black dishwasher, and top it off with a beautiful wine fridge to fit in the space of the trash compactor. With some help from our savings account and I'll admit, we did pull out the plastic. We invested in eighteen hundred dollars' worth of new appliances.
Six hundred dollars in paint and eighteen hundred dollars in appliances including the sink, our home feels and looks like it belongs in the twenty-first century. We have taken a long breather to reload our bank account and our physical stamina. Mentally, we are thrilled with the progress of our old home. I love that I can look around and see us, not just a shell of someone's old memories. Five or ten years from now, we will tackle the carpets.
If you are looking for granite countertops in Phoenix, AZ – Please call AZ granite & Remodeling Today at (602) 759-9000.